Informations about localization
Click on the pictures for enlarge them
| | |
| --- | --- |
| | Following through the road to Prainha Beach and Grumari beach, on the left side in the end of down the second hill, you will see those boards: On left, the restaurant indication; on right, Abricó beach indication. |
---
| | |
| --- | --- |
| | Abricó beach stands in front of that restaurant, walking on the sand to the left, behind big stones. |
---



That is the entrance to the Abricó naturist beach.

The first information board is stuck on the way down the stairs coming from the road.

The second signpost is stuck on the rocks that divide the area for the naturist practice from textile exclusive use area.
---
On website Taxímetro Online (http://www.precodotaxi.com) you may see the way since the point where you are (in Rio de janeiro) to the Abricó beach. On the table Destino in the website fill up as the picture below. Besides it calculates the schedule to the beach, it explains the complete way by car.
Exact geographical localization of Abrico beach.
23 ° 02' 52.60" South
43° 30' 47.30" West
(colaboration Mauro Martins)
Abrico Beach view from high
reprodução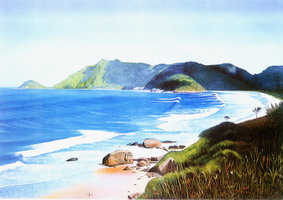 Leonel Brayner's oil on canvas . From the book Rio: pena e pincel, by Brayner and Heloisa Seixas. Font: Jornal do Brasil in 11/13/05.




you are in Abrico Naturist Association pages




---
ANA - Associação Naturista da Praia do abricó 2008
Todos os direitos reservados.